Bila kucing anda tetiba mengada nak manja lebih, maka berlakulah camwhoring dengan kucing anda.
I have three cats, malangnya yang sekor tu time camwhoring ni die menghilang ntah ke mana ntah. Bile lapar sebok nak ngiyau lebih. :p
Terbukti kesengalan camwhoring bersama nyiau dengan gambar-gambar di bawah..
(Tiada kucing yang tercedera dalam pembikinan gambar-gambar kesengalan ini, skian makaseh. XD)
Haha.. Camwhoring dengan
Mas Merah
..
(Nama ayah bagi ek, sile gelak.)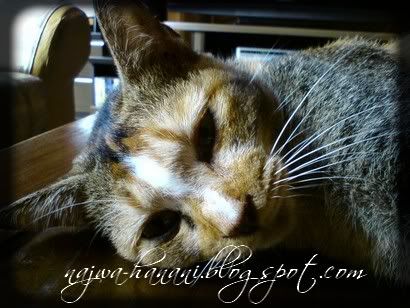 Last-Last
Mas Merah
malas kene kacau mamarazi, terus angkat bontot dudok atas coffee table sambil wat muke sedih putus cinta. Perghh. Muke sayu gile dowh. XD
TETAPI
, tiba-tiba kelibat hitam kelihatan melompat atas coffee table menganggu kesayuan
Mas Merah
. Mungkinkah?????
Jeng Jeng Jeng
~ Kucing macho yang gemok bertuksedo,
THAMBY!!!
(sebutan Tambi, and yes, ni pon ayah yang bagi nama...)
APAKAH YANG BAKAL TERJADI????
Takde pape pon yang berlaku. Diorang dok pandang satu-sama lain pastu dah.
Saja nak buang space memory card henpon dengan ambik gambar kucing banyak-banyak.
HaHa.
*gelak sorang*