Akhirnya, naik jugak blog entri birthday mak aku, whee~ :D
Hari dimulakan dengan mak aku emosi dengan pokok bunga. Maybe adalah
satu petanda simbolik
yang die emosi usia dah meningkat? hahaha.
Tengok
gambar first mak aku ngan aku pada hari behdey
:
Ni plak muke ayah aku. Cool je. :p
Kalau tengok gambar kat bawah nih mesti tau makan katne dah kan? :D
Ngahahahaha.
Resipi Rahsia aka Secret Recipe
Mak aku pilih kek Cheesecake Fibre yang healthy tu, yang kalau korang makan seketui mesti proses pencernaan ko hebat
aka senang berak.
Haha, mesti korang dah tak selera nak makan kek ni kan? Tapi sodap! Sebab macam cheesecake taruh kacang-kacang and muesli gitu. X3 Nyam nyam nyam~
And untuk lunch kitorang order bebarang kat bawah ni:
Ayah aku makan pan dory fish wih lobster sauce dengan teh darjeeling.
Mak aku makan Aussie Stewed Beef Steak dengan teh Jasmine
Adik aku makan Meatball Spaghetti dengan Oreo Milkshake.
Aku makan Prawn Macaroni and cheese dengan Oreo Milkshake.
Aku tak sampai ati letak gambar makanan satu-satu sebab aku taknak bertanggungjawab dengan korang nye keyboard
and aku malas nak edit and upload satu-satu.
:p Ngehehehehe.
Tapi kalau ade yang nak usha jugak.............. *points down*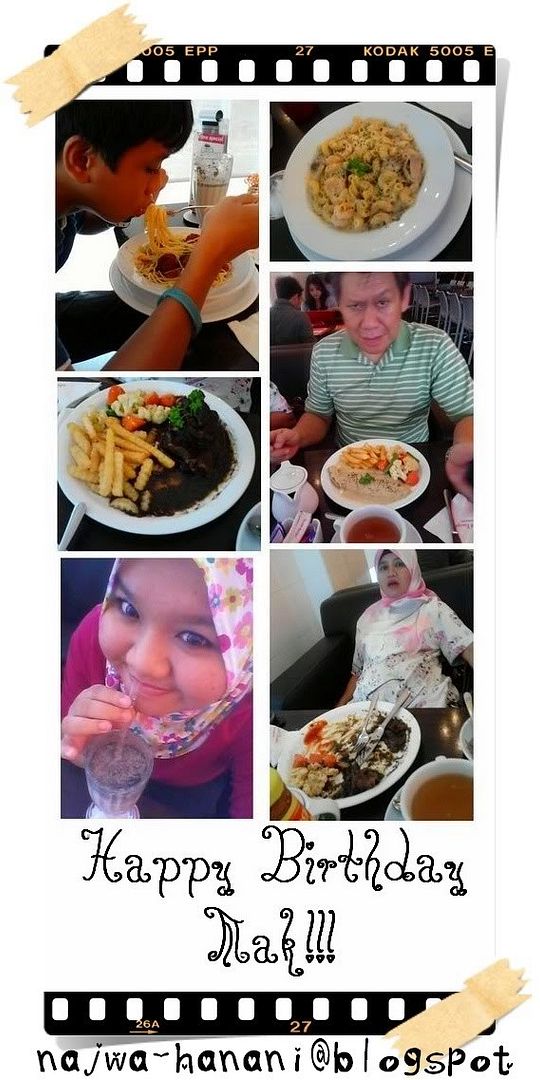 Hehe. Bile malas, terus nak compile. XP