For this sem, kitorang nye day off is
Wednesday
.
So since supply rumah sewa dah low
(contoh: syampu, sabun badan, sabun basuh baju, etc....)
maka si kawan saya
Tiang M. Jambu
aka
Hani Bani
telah berjaya mendapatkan kereta untuk membawa saya,
Enul Ejan
n
Gee Mantap
pegi membuang masa
yang sepatutnye digunakan untuk menyiapkan AE
dengan pegi bersoping di
Segi Tiga Damansara.
Bukan selalu wo. Boleh dikira dengan jari sebelah tangan berapa kali sampai situ.
Oh malu.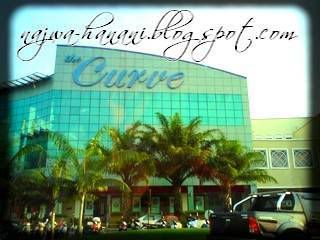 Cantek. Sangap setiap kali pegi sini tau. Walaupun takde la beli pape sangat. Pfft.
Yang second pic tu view from
Cineleisure
. Kitorang dok pusing every floor and masuk segale kedai baju belek-belek, cube-cube, fake beli tapi sebenarnye tak nak beli.... Lepas penat pusing 3 tingkat, terjumpe la
Lecka Lecka
idaman
Enul Ejan
.
Enul
pon seronok sakan dapat makan
eskrem Lecka Lecka
yang disebut-sebut all the way nak pegi sini from Shah Alam.
Tapi yang paling sangap tengok is Kedai
Daiso
yang feymes kat Jepon. Aka kedai
100 yen
. Kat Malaysia nih,
RM5
. Takyah tanya lah brape rega barang dalam kedai nih
melainkan nak kene ketok kepale la
. Obviously RM5 kot. Tapi barang gile berkualiti.
Woh, sangap woh. Habis
RM50
dalam kedai nih.
I love Daiso!!!!! Review barang-barang wat lain kali je ek. Upload gambar pakai broadband nih lembab macam Gary pet snail Spongebob.
Closure of a great day would be lunch
(lunch la sangat kol 3.30pm)
at
Ikea
. I am a self-proclaimed
Ikea fanatic
. Dok satu hari kat Ikea pun tak bosan kot. Hepi je kalau masok Ikea. Segale bende nak belek.
Tapi yang paling best makan kat Ikea is the
cheap yummy meatballs
and
kek Daim
!!!!!

OH SORGAAAAAAAAA~!!!!!