So last Saturday, bapak, adik me and my koibito went to visit the new member of our family... Seronok angkut hamper baby Johnsons and one month supply newborn pampers. Haha! XD
Masuk-masuk je bilik tu kejut tengok baby besar semacam. :p
Mohammad Dhani Mikael.
Dhani
sebab ayah minat Dhani kumpulan Dewa (LOL) and
Mikael
as a tribute to Michael Jackson. Gile Kreatif dowh. XD And rupenye besar sebab baby sehat. 3.035 kilo tu... Berat, beb.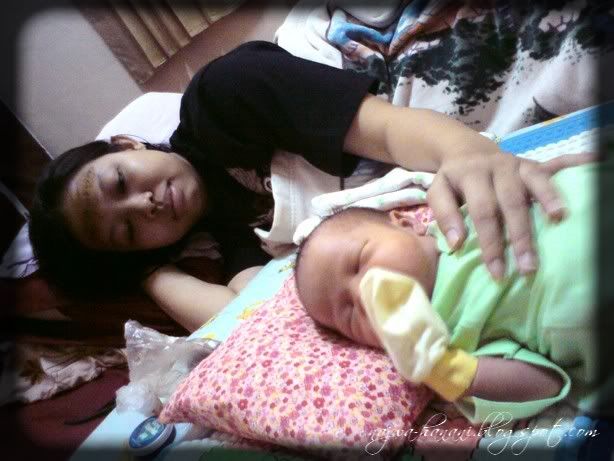 With his ibu.. :3
Pastu sebab suke sangat tengok baby fingers and toes, buat muka tak malu bukak gloves pastu terkezut tengok jari Dhani yang panjang gile babas. XD
LOL. Ni nanti bakal champion batu seremban kat skolah. Juara congkak pun boleh.
Pastu kitorang pegi rumah one of our sedara not far from my cousin's house. Ayah sangap tegok pokok rambutan merah je, terus wat muka tak malu mintak. haha. Bapak sengal. :p
Ni plak sempat camwhoring sebab prasan lighting cam best. XD
Aiyooo.. Sapa ada petua k ngilang lemak pipi macam pau inti kari ayam... (T___T)
And lastly before balik, pegi lunch kat Choice Supermall's Rose Se7en. Chicken chop nyam nyam. ^^
(=^_^=)